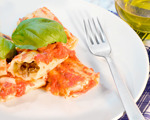 Prep: –
Cook Time: –
Total: –
Serving: 6 People
Make an exception to dinner at the table and have a dinner and a movie family night! These spinach lasagna rolls are oozing with as much cheese as your favorite movie oozes with drama. Let the kids eat on the sofa while you savor the fact that your family is eating and enjoying spinach in their pasta.
Ingredients
1 package fresh spinach cooked 
1 small container (15 ounces) ricotta cheese
3 cloves of garlic, minced
1/2 small white onion, chopped
1 egg
Freshly ground black pepper
Fresh basil, chopped
Cayenne pepper (optional)
Fresh nutmeg, grated
2 cups shredded Italian cheese (or a blend of your favorite cheeses, grated)
1/2 cup Parmesan cheese
1 box lasagna noodles
1 jar favorite pasta sauce or 3 cups homemade
Directions
Boil the pasta noodles. Set them aside.
Lightly grease a 9 x 13-inch dish. Pour a 1/4 cup of the pasta sauce into the dish and spread it across the bottom.
Sauté the garlic, onion and spinach in 1 tablespoon of olive oil. Season it with black pepper, then set it aside on some paper towels to drain.
In a large bowl, combine the spinach, ricotta cheese, garlic, egg, black pepper and basil.
If you are using the cayenne, add it with the nutmeg and combine it well.
Stir in 1 cup of the shredded cheese with the Parmesan cheese.
Spread the mixture (about 2 tablespoons of the filling) across the noodles and roll. Place them into the prepared dish, with the seam sides down.
Pour the remaining sauce on top, then add the remaining 1 cup of cheese. Bake them at 350 degrees F for 45 to 50 minutes.