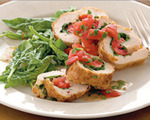 Prep: 25 min
Cook Time: 20 min
Total: 45 min
Serving:
Try this easy and healthy dish perfect for entertaining or for any other night of the week.
Ingredients
4 (6 ounce) chicken breasts, pounded thin
1 cup whole baby spinach, divided
1 cup shredded low-fat cheddar cheese, divided
1 large tomato, cut into 4 slices
6 egg whites
3/4 cup low-sodium chicken or vegetable broth (1/4 for the chicken, 1/2 for the topping)
1/2 cup flour
1 tablespoon olive oil
1 cup diced tomato
1/2 cup chopped baby spinach
2 tablespoons red wine vinegar
Fresh or dried basil (or any herb)
Salt and freshly ground black pepper
Directions
Preheat oven to 325 degrees F.
Place a chicken breast on work surface, smooth side down. Top with 1/4 cup of the spinach, 1/4 cup of the cheese, and 1 tomato slice. Fold in ends and roll tightly. Place seam side down on a platter. Repeat with remaining chicken.
Whisk together egg whites and broth. Divide flour onto two large plates.
Coat stuffed chicken with flour, then dip into egg mixture and back into flour (shake off any excess). Set chicken roulade on a baking sheet lined with waxed paper.
In large sauté pan, heat oil over medium. Brown each chicken roulade, then place on an unlined baking sheet. Bake for 20 minutes.
While stuffed chicken is baking, prepare topping: In small saucepan, combine tomato, spinach, vinegar, broth, and herbs. Bring to a boil; cook 2 minutes. Season with salt and pepper.
Slice each chicken roulade horizontally into 1-inch slices and place on a plate. Top each portion with warm tomato mixture and serve.