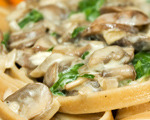 Prep: 10 min
Cook Time: 12 min
Total: 22 min
Serving: 4 Servings
This vegetarian main dish meal is packed with hearty flavor and wonderful texture. Serve with a bottle of American Riesling or an Italian Pinot Grigio to compliment the flavors.
Ingredients
1 pound linguine
Sea salt and freshly ground black pepper
10-11 ounces baby spinach
1 tablespoon olive oil, plus extra for drizzling
1/2 pound cremini mushrooms, brushed and quartered
1 clove garlic, crushed
1 cup hot vegetable stock
3-4 ounces grated cheddar
3 tablespoons flat leaf parsley, chopped
Directions
Cook the pasta according to package directions but add the spinach to the pot during the last 3 minutes of cooking. Strain the mixture well and then place back into the pot.
In the meantime, place 1 tablespoon of oil into a large sauté pan over medium heat. Once the oil begins to shimmer, add the mushrooms and sauté for 3 minutes. Stir in the garlic and the vegetable stock and then bring the mixture to a simmer.
Sprinkle the mushroom mixture with a few pinches of salt and pepper, and then add the pasta and spinach to the pan along with the cheese and the parsley. Drizzle with some additional oil and then toss once more prior to serving.