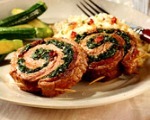 Prep: 30 min
Cook Time: 15 min
Total: 45 min
Serving: 8 servings
Low-fat creamy spinach filled flank steak rolls.
Ingredients
1 1/2 pounds lean beef flank steak
1 (10 ounce) package frozen spinach, thawed and drained
1/4 cup grated Parmesan cheese
1/4 cup fat-free sour cream
Directions
Diagonally slice one side of the steak. Pound to 3/8-inch thickness. Mix together the remaining ingredients and spread on the cut side of the steak.
Roll, starting at the narrow end, securing with a toothpick every 1-inch. Slice into 1-inch thick rolls, leaving the toothpicks to secure the rolls. Arrange the rolls on a greased broiler rack.
Broil 6 inches from the heat for 7 minutes per side. Remove toothpicks to serve.