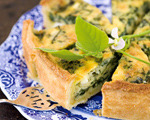 Prep: 10 min
Cook Time: 32 min
Total: 42 min
Serving: 6 Servings
This quiche blends classic Greek flavors together to create a delicious spinach and feta quiche that is perfect for a light brunch. Serve slices of the quiche with glasses of Chardonnay or Colombard.
Ingredients
14 ounces frozen puff pastry, thawed
1 egg white
2 bunches spinach, roughly chopped
1-1/2 tablespoons
2 rounds feta
1 egg, beaten
Directions
Preheat your oven to 350 degrees.
Sprinkle a clean surface with flour and then roll out the pastry using a rolling pin. Place the pastry dough into a pie pan and prick the base with a fork. Put the pastry shell in the oven for 15 minutes and then remove and brush the entire inside with the egg white. Place back into the oven for an additional 10 minutes to brown.
In the meantime, place the spinach in a steam basket over a saucepan of boiling water and steam for 6 minutes. Remove the spinach, drain and then chop into small pieces once cool enough to handle.
Place the butter into a large sauté pan over medium heat and then add the onion and garlic once melted. Sauté the mixture for 4 minute and then add the spinach and cook for an additional few minutes. Stir in the feta and then transfer the mixture to the prepared pastry shell.
Pour the beaten egg over the spinach mixture and then place the quiche in the oven for 20 minutes. Serve warm or at room temperature.