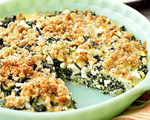 Prep: 10 min
Cook Time: 35 min
Total: 45 min
Serving: 6 Servings
Similar to Greek 'spanakopita,' this dish incorporates the wonderful flavors of spinach and feta cheese but without the filo pastry.
Ingredients
Nonstick cooking spray
3/4 cup chopped onion
3 cloves garlic, minced
1 teaspoon olive oil
2 10-ounce packages frozen chopped spinach, thawed and well-drained
1 cup cottage cheese, drained
1 cup crumbled feta cheese (4 ounces)
4 eggs, lightly beaten
1 tablespoon snipped fresh oregano or 1 teaspoon dried oregano, crushed
1/4 teaspoon coarsely ground black pepper
1/4 cup finely shredded Parmesan cheese
2 tablespoons fine dry bread crumbs
Directions
Preheat an oven to 350 degrees and coat a 9-inch pan with cooking spray; set aside.
Place the Parmesan cheese and breadcrumbs in a small bowl and mix to combine.
Place the olive oil in a medium-sized sauté pan over medium-low heat, and sauté the onion and garlic for 5 minutes.
Add the spinach, cottage cheese, feta cheese, eggs, oregano and pepper to the garlic mixture and stir to combine.
Transfer the spinach mixture to the prepared 9-inch pan and then sprinkle the top with the breadcrumb mixture. Place in the oven for 30 minutes, or until a knife inserted into the center tests clean.