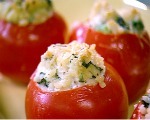 Prep: 10 min
Cook Time: 30 min
Total: 40 min
Serving: Serves 4 people
Spinach and cheese-stuffed tomatoes are delicious and a great source of vitamins and protein. This dish is an easy, tasty crowd pleaser.
Ingredients
4 large tomatoes
6 cups fresh spinach, packed
1/2 onion, finely chopped
2 gloves garlic, minced
1 tablespoon olive oil
2/3 cup fat-free ricotta cheese
1-1/2 teaspoons fresh basil, snipped or 1/2 teaspoon dried basil
1/4 teaspoon pepper
1/8 teaspoon salt
2 tablespoons fine dry bread crumbs
1 tablespoon grated Parmesan cheese
Directions
Preheat your oven to 350 degrees F. Cut a thin slice off the top of each tomato (the stem end). Hollow out the tomatoes with a kitchen spoon and discard the seeds. Make sure the tomato shell is about 1/2-inch thick. Chop the inside remains of the tomatoes and set aside.
Add the fresh spinach to a large saute pan over medium-high heat. Cover it and cook for about 2-3 minutes. The spinach will begin to wilt. Once it's wilted, remove it from the heat, drain it well and chop it. Set the spinach aside.
Add the olive oil to the saute pan over medium-high heat. Cook the onion and garlic until they're tender. Turn off the heat, but add the chopped tomato, spinach, ricotta cheese, basil, and salt and pepper. Mix everything together.
Spoon the mixture into the tomato shells and put them in a shallow baking dish. Stir the bread crumbs and Parmesan cheese together and sprinkle the mixture over the tomatoes.
Bake the tomatoes for about 20 minutes, or until the stuffing is heated through and the tops are golden brown.