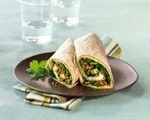 Prep: 10 min
Cook Time: 4 min
Total: 14 min
Serving: 1 serving
An omelet made with spinach, avocado, egg white and Kellog's All-Bran® cereal in a tortilla wrap
Ingredients
2 egg whites
125 millilitres (1/2 cup) cooked spinach
45 millilitres (3 tablespoons) All-Bran Original® cereal
1 tortilla wrap (20 centimetres or 8 inches), preferably whole wheat
15 millilitres (1 tablespoons) avocado, chopped in a large dice
1 sprig coriander
Directions
Put a small amount of vegetable spray on a non-stick pan; preheat pan over medium heat.
Whisk the egg whites. Pour into preheated pan and cook for two minutes per side.
Remove the cooked egg white omelet from pan. Fold it in half and lay it on top of the tortilla. Add cooked spinach, avocado and All-Bran Original® cereal; roll into a wrap.
Bake for four minutes in an oven preheated to 190 degrees C. (375 degrees F.).