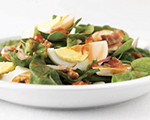 Prep: 10 min
Cook Time: 10 min
Total: 20 min
Serving: 1 Serving
Enjoy this delicious spinach salad packed with nutrients and full of fresh flavor.
Ingredients
1 slice applewood smoked bacon
2 tablespoons olive oil
2 tablespoons onion, chopped
1 garlic clove, minced
1 teaspoon mustard
1 tablespoon cider vinegar
1/4 cup balsamic vinegar
2 cups baby spinach
2 quartered hard-boiled eggs
1/4 diced tomato
2 tablespoons mushrooms, chopped
2 tablespoons shredded carrot
Directions
Cook the bacon in a small skillet over medium-high heat, remove and crumble. Set aside.
Add 2 tablespoons of oil to the skillet, and then the onion and garlic. Sauté for about 4 minutes over medium heat and then stir in the vinegars and the mustard, and whisk until combined.
Place the spinach in a salad bowl with the eggs, tomato, mushrooms and the carrots, and toss to combine. Top with the crumpled bacon and drizzle on the dressing.