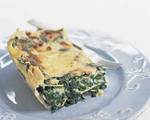 Prep: 20 min
Cook Time: 1 hr 10 min
Total: 1 hr 30 min
Serving: Serves 8-10 people
Spinach & Mushroom Lasagna with Bechamel Sauce is a great vegetarian meal, plus it's gives a twist to traditional lasagna since it's made with creamy Bechamel sauce.
Ingredients
6 cups of milk
1 cup of butter
1 cup of white flour
Salt and pepper to taste
1/8 teaspoon nutmeg
1/4 cup of vegetable oil
2 cloves of garlic, minced
2 cups of onion, chopped
2 pounds frozen spinach, thawed and drained
2 cups of button mushrooms, sliced
3/4 cup fresh parsley, chopped
1 pound of ricotta cheese (you can substitute cottage cheese)
2 eggs
2 cups grated Parmesan cheese
2 cup grated Mozzarella cheese
1 package of lasagna noodles
Directions
For the sauce: Heat the milk in a small sauce pan until it is almost boiling. In another small saucepan, melt the butter and whisk in the flour. Cook this mixture for 3-4 minutes, stirring constantly. Slowly add the milk to the flour mixture. Stir it until the sauce thickens. Set aside.
For the lasagna: Preheat your oven to 350 degrees F. Using a saute pan, add the oil to the pan over medium-high heat. Add the garlic & onions. Saute until the onions are translucent. Add the spinach, mushrooms and 1/2 cup of the parsley. Set this mixture aside.
In a medium-sized bowl, combine the remaining parsley, ricotta cheese, eggs and 2/3 cup of Parmesan cheese.
Oil a 9x12-inch baking pan. First, layer 1-1/2 to 2 cups of the Bechamel sacue, 1/3 of the uncooked lasagna noodles, half of the spinach mixture and all the Mozzarella cheese. Next, add 1-1/2 to 2 cups of the Bechamel sauce, 1/3 of the noodles, all the ricotta mixture, and the remaining spinach mixture. Finally, add 1-1/2 to 2 cups of the Bechamel, the remaining noodles, the remaining Bechamel and sprinkle 1-1/3 cups of Parmesan cheese on top.
Bake, covered, for 45 minutes. Uncover the lasagna and cook for another 10 minutes. Allow the lasagna to cool for about 15 minutes prior to serving.