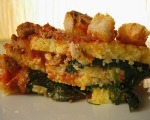 Prep: 15 min
Cook Time: 55 min
Total: 1 hr 10 min
Serving: Serves 6-8 people
Definitely not your typical lasagna, Spinach & Bread Lasagna is hearty, meat-free and substitutes bread for traditional noodles.
Ingredients
1 pound fresh spinach leaves
1 loaf ciabatta bread, thinly sliced
4 tablespoons softened butter or olive oil
1 red onion, thinly sliced
4 ounces fresh mushrooms, thinly sliced
2 tablespoons olive oil
1 teaspoon cumin seeds (optional)
Salt and pepper to taste
4 ounces of Gruyere cheese, grated
3 eggs
2-1/4 cups milk
Grated fresh nutmeg (or dried)
Directions
Preheat your oven to 375 degrees F. Blanch your spinach in a small amount of water for about 2 minutes. Drain the spinach and press out any excess water. Chop the spinach roughly and set aside.
Oil a large, shallow rectangular baking dish. Spread the butter (or olive oil) on the sliced bread. Line the bottom and sides of the baking dish with the bread.
In a small saucepan, stir fry the onion and mushroom in the olive oil for about 5 minutes. Add the cumin seeds (optional) and spinach. Season with salt and pepper.
Layer the spinach mixture over the initial layer of bread along with half of the cheese and the remaining bread. For the topping, mix the remaining spinach, mushrooms and cheese together and place on top.
In a medium-sized bowl, beat the eggs and milk and season with the nutmeg. Pour the mixture over the whole dish and set aside for about an hour. Add the "lasagna" pan to a larger baking pan. Add water to the outside pan (to about half way up the sides). Bake for about 45 minutes until the set and golden brown and crispy on top.