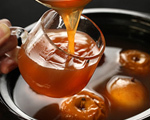 Prep: 5 hr
Cook Time: –
Total: 5 hr
Serving: About 18 Servings
Wassail is a traditional hot drink made from a blend of ale, sherry and spices. This version uses many similar ingredients but also includes apple cider and cranberry juice.
Ingredients
2 quarts apple cider
1 quart cranberry juice cocktail
1/4 cup firmly packed dark brown sugar
27 whole cloves
15 allspice berries
4 (4-inch) cinnamon sticks
5 small firm cooking apples of your choice
1/2 cup water
1 medium orange peel, without pith
2 cups Calvados
Directions
Place 12 of the cloves, the allspice berries, and the cinnamon sticks in a small piece of cheesecloth and secure with a string to make a small pouch.
Put the apple cider, cranberry juice, and brown sugar into a slow cooker, add the spice pouch and cook, covered, for 5 hours on low.
In the meantime, heat the oven to 375 degrees and cook the apples, studded with the remaining cloves, in a baking pan with water. Cook for 45 minutes and then remove from the oven and set side.
Place the cooked apples in the slow cooker after it has cooked the spice mixture for 5 hours, and then add the orange peel. Remove the spice bag, discard and stir in the Calvados.
Serve directly from the slow cooker to keep the beverage warm.