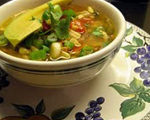 Prep: 10 min
Cook Time: 30 min
Total: 40 min
Serving: 4 Servings
Here is a great way to use leftover turkey from Thanksgiving. Serve this soup ladled over crushed corn chips and topped with shredded cheese and cilantro.
Ingredients
1 tablespoon extra virgin olive oil
4 cloves garlic, chopped
1-1/2 cups chopped onion
1 (28-ounce) can diced tomatoes, with their liquid
4 cups low-sodium chicken broth
1 teaspoon dried oregano
1/4 teaspoon ground chipotle
1/2 teaspoon ground cumin
1/2 teaspoon black pepper
1 bay leaf
3 cups shredded cooked turkey meat (white and dark)
1 small bag white corn chips
1 bunch cilantro, chopped
1 cup shredded Monterey jack cheese
Directions
Place the oil in a large soup pot over medium-low heat, add the garlic and the onions and sauté for 10 minutes, stirring frequently.
Add the tomatoes, broth, oregano, ground chipotle pepper, cumin, black pepper, bay leaf and turkey and bring the mixture to a boil.
Once boiling, reduce the heat to medium-low and simmer for 15 minutes.
Serve the soup ladled over crushed corn chips and garnished with the cheese and cilantro.