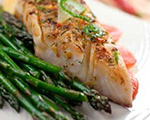 Prep: 10 min
Cook Time: 23 min
Total: 33 min
Serving: 4 Servings
Even people who aren't crazy about fish will enjoy the spicy and flavorful taste of tilapia in this dish.
Ingredients
2 pounds asparagus, tough ends trimmed, cut into 1-inch pieces
2 tablespoons chili powder
1/2 teaspoon garlic powder
1/2 teaspoon salt, divided
1 pound tilapia
2 tablespoons extra-virgin olive oil
3 tablespoons lemon juice
Directions
Cook the asparagus by placing it in a steamer for about 15 minutes until soft yet still tender. Set aside to cool.
Meanwhile, in a shallow dish, mix together the chili powder, garlic powder and 1/4 teaspoon salt.
Heat a large frying pan over medium-high heat and add the oil.
Dredge the fish fillets in the spice mixture until thoroughly covered and then place in the frying pan and cook for 3-1/2 minutes per side.
Transfer the fish to 4 serving plates and add the asparagus to the frying pan. Add the lemon juice and the remaining salt and cook, stirring frequently, for 2 minutes. Place the asparagus on the plates and serve.