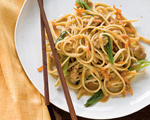 Prep: 25 min
Cook Time: 18 min
Total: 43 min
Serving: 4 Servings
Szechuan is a style of southwestern Chinese cuisine known for bold and spicy flavors, and for pickling, salting and drying their ingredients for dishes.
Ingredients
1/2 cup chicken stock
1 tablespoon soy sauce
2 tablespoons Chinese black bean sauce
2 tablespoons sugar
2 tablespoons peanut oil
2 tablespoons minced peeled fresh ginger
1 tablespoon minced garlic
2 tablespoons coarsely chopped chili peppers
1/4 cup coarsely chopped bamboo shoots
1 pound ground pork
1 pound Chinese egg noodles
1/2 cup scallions, cut in 2-inch pieces
1/2 teaspoon toasted sesame oil
1/4 cup finely chopped scallion
Directions
In a small bowl, add the stock, soy sauce, black bean sauce and sugar, and mix with a whisk until well blended.
Heat a wok or large sauté pan over high heat and then add the peanut oil to coat pan.
Once oil is hot, stir fry the ginger, garlic, peppers and bamboo shoots for 1-1/2, stirring frequently
Next add the pork, breaking up the meat into small pieces and cooking until pink is no longer showing.
In the meantime, cook the Chinese noodles according to package directions, drain, and set aside in a serving bowl.
Pour the prepared stock mixture into the wok and cook for 2 minutes, and then add the scallions and continue to fry for 1-1/2 minutes.
Pour the pork mixture over the noodles and then drizzle with the sesame oil. Toss the noodles well to coat and then sprinkle the dish with the 1/4 cup chopped scallion. Serve immediately.