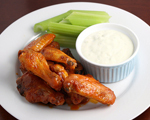 Prep: 10 min
Cook Time: 25 min
Total: 35 min
Serving: Makes 36 wing pieces
You can't celebrate game day without these hot and spicy wings and a cool side of ranch dressing and celery. Adjust the heat by adding more or less of the Tabasco and cayenne pepper.
Ingredients
36 chicken wing pieces
1 tablespoon vegetable oil
1 tsp salt
1 cup all-purpose flour
1-1/2 tablespoons white vinegar
1/4 teaspoon cayenne pepper
1/8 teaspoon garlic salt
1/4 teaspoon Worcestershire sauce
1 teaspoon Tabasco sauce
1/4 teaspoon salt
6 tablespoons Louisiana hot sauce
6 tablespoons unsalted butter
Directions
Preheat the oven to 425 degrees. Spray a large baking pan thoroughly with cooking spray.
In a large bowl, mix the olive oil and the salt. Add the wings and toss to coat.
Empty the wings in to a large plastic Ziploc bag or even a plastic supermarket bag. Add the flour and shake until wings are covered.
Remove wings from bag and place on the prepared cooking pan, leaving some space between each wing. Cook for 20 minutes and then flip wings and cook for an additional 20 minutes on other side.
Meanwhile, mix the vinegar, cayenne pepper, garlic salt, Worcestershire sauce, Tabasco sauce, salt, Louisiana hot sauce and butter in a large saucepan over low heat and bring to a simmer. After 3 minutes remove from heat and set aside.
Place the cooked wings into a large mixing bowl and pour in the sauce, mixing well with two large spoons to coat. Serve on platter with a side of celery sticks and blue cheese dressing.