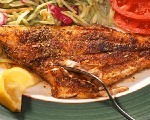 Prep: 10 min
Cook Time: 15 min
Total: 25 min
Serving: Serves 4 people
Add a dash of "wow" to your next dinner! Spicy Skillet Cajun Fish is great for dinner served with steamed rice and vegetables or with crunchy bread and your favorite soup.
Ingredients
1 tablespoon vegetable oil
1 small green pepper, diced
1/2 teaspoon dried oregano leaves, crushed
1, 12-15 ounce can of condensed tomato soup
1/3 cup of water
1/8 teaspoon garlic powder
1/8 teaspoon ground black pepper
1/8 teaspoon ground red pepper
4 fresh or frozen fish fillets (about one pound total), either cod, haddock or halibut
Directions
Using a medium-sized skillet, heat the oil over medium heat and add the green pepper and oregano. Stir constantly and cook until the pepper is crisp-tender.
Stir in the soup, water, garlic powder, black pepper and red pepper. Bring the mixture to a boil. Add the fish fillets to the skillet and reduce heat to low. Cover the skillet and cook until the fish is flakey (about 5 minutes). Serve the fish with steamed rice and vegetables or with soup and crunchy bread.