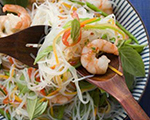 Prep: 15 min
Cook Time: 8 min
Total: 23 min
Serving: 1 Serving
This is an ideal light yet satisfying dish, full of protein and flavor.
Ingredients
1/3 cup cellophane noodles
1/4 cup julienned red bell pepper
1/4 cup julienned carrot
1/4 cup sugar snap peas
3 ounce peeled shrimp
1 teaspoon peanut butter
2 tablespoons rice vinegar
1 teaspoon brown sugar
Juice of 1 lime
1 teaspoon sesame oil
1 pinch red pepper flakes
Sea salt to taste
1 tablespoon chopped scallion
1 tablespoon chopped cilantro
Directions
Cook the noodles according to package directions, adding the red bell pepper, carrot and peas during the last minute of cooking. Drain, saving the liquid in the pot, and place in a bowl.
Place the shrimp into the pot and cook for 3 minutes, then drain and place into the bowl with the noodles.
In a small bowl, place the peanut butter, rice vinegar, sugar, lime, sesame oil, red pepper flakes and a sprinkle of salt, and whisk until combined.
Pour the dressing over the noodles and vegetables, and toss to combine. Sprinkle with scallion and cilantro and serve.