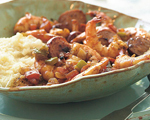 Prep: 35 min
Cook Time: 20 min
Total: 55 min
Serving: 4 to 6 servings
The intense flavors in this dish will have your family thinking you were cooking all day when in actuality, this meal comes together rather quickly. Serve with a side of buttery mashed potatoes.
Ingredients
1 pound uncooked peeled deveined large shrimp
1 tablespoon Creole seasoning
2 tablespoons olive oil, divided
1 pound spicy sausage, cut crosswise then into 3/4-inch-thick pieces
1 large onion, halved, thinly sliced
1 large red bell pepper, cut into 1/3-inch-wide strips
1 tablespoon chopped fresh thyme
1 cup chicken broth
5 tablespoons Creole mustard
2 teaspoons red wine vinegar
Directions
Place the shrimp in a large bowl, and sprinkle with the Creole seasoning; toss to coat.
In a medium-sized sauté pan, heat 1 tablespoon oil over medium-high heat until hot but not smoking. Add the sausage and cook for 7 minutes making sure to brown each piece on both sides. Remove from pan and set aside.
Place the shrimp in the sauté pan and sauté for 4 minutes. Remove from pan and set aside.
Pour in the remaining 1 tablespoon of olive oil and sauté the onion, bell pepper, and thyme for 5 minutes, stirring often.
Pour in the broth and add the mustard and the vinegar, stirring frequently for 2 minutes.
Place the sausage and the shrimp back into the pan and sprinkle with salt and pepper. Cook the mixture for 2 more minutes; serve hot.