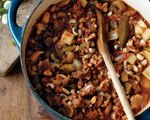 Prep: 10 min
Cook Time: 25 min
Total: 35 min
Serving: Serves 6
If you are looking to add a spicier Cajun flavor to your chili, try using Andouille sausage that is frequently used in jambalaya and gumbo, or spicy Chaurice sausage.
Ingredients
1 tablespoon olive oil
1 pound sausage, cut into 1/4-inch cubes
3 medium yellow onions, chopped
1 large red bell pepper, seeded and chopped
1 bay leaf
2 cans (14 1/2-ounce) beef broth
2 cans (15 1/2-ounce) black-eyed peas, rinsed and drained
2 teaspoons chili powder
1 teaspoon ground cumin
1 teaspoon chopped fresh thyme leaves
1 tablespoon chopped fresh parsley leaves
1/2 teaspoon salt
6 cups hot cooked rice
Parsley to garnish
Directions
In a large sauté pan, heat the olive oil over medium-high until hot but not smoking.
Drop-in the sausage and brown, stirring occasionally for approximately 7 minutes.
Spoon out some of the excess fat from the pan and then add the onions and peppers and sauté for about 6 minutes. Onions will turn a golden brown.
Mix in the bay leaf, broth, black-eyed peas, chili powder, cumin, and thyme. Mix until all of the ingredients are well combined. After bringing to a boil, reduce the heat to low and simmer uncovered for approximately 30 minutes.
Sprinkle chili with parsley to garnish and serve over the cooked rice.