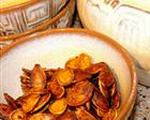 Prep: 10 min
Cook Time: 45 min
Total: 55 min
Serving: 2 cups
This is a tasty pumpkin seeds recipe. Halloween recipes are big this fall and this one should top your list of things to try.
Ingredients
2 cups pumpkin seeds, rinsed and dried
2 tablespoons butter, melted
1/2 teaspoon salt
1 tablespoon Worcestershire sauce
1 tablespoon brown sugar
2 drops hot pepper sauce
Directions
Preheat the oven to 300 F. Line a baking sheet with a piece of foil.
In a medium size bowl, stir together the pumpkin seeds and butter. Add the salt, Worcestershire sauce, brown sugar, and hot pepper sauce and stir until combined. Spread the seeds in a single layer on the baking pan.
Bake in preheated oven until crispy for about 45 minutes.