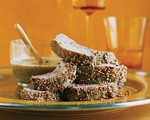 Prep: 25 min
Cook Time: 20 min
Total: 45 min
Serving: 8 Servings
Juicy pieces of pork tenderloin are coated with a sweet and savory honey mustard sauce in this delicious recipe. Serve with a side of collard green and fingerling potatoes.
Ingredients
3 tablespoons mustard seeds
1 tablespoon fennel seeds
1/2 teaspoon crushed red pepper
2 14-ounce pork tenderloins
Sea salt and freshly ground pepper
1/2 cup grainy Dijon mustard
1/4 cup Dijon mustard
1/4 cup honey
Directions
Preheat the oven to 375 degrees.
Using a mortar and pestle, lightly crush the mustard seeds, fennel seeds and crushed red pepper, and then place the mixture onto a large piece of wax paper.
Sprinkle the pork with salt and pepper and then roll to coat in the mustard seed mixture. Place the tenderloins onto a roasting pan and place in the oven for 20 minutes.
Transfer the pork tenderloins to a clean flat surface and let rest for 10 minutes before slicing.
In the meantime, mix the Dijon mustards with the honey and some salt and pepper to taste. Serve the honey mustard with the pork.