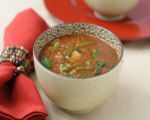 Prep: 15 min
Cook Time: 45 min
Total: 1 hr
Serving: Serves 6 people
A hearty dish for vegetarians and non-vegetarians alike, Spicy Lentil and Pasta Soup is perfect on a cold winter evening. Nutritious and filling, serve this for dinner with a fresh green salad and crunchy bread.
Ingredients
2 medium onions, thinly sliced
1/2 cup carrot, chopped
1/2 cup celery, chopped
2 tablespoons extra-virgin olive oil
1 small jalapeno pepper, finely chopped
2, 14.5-ounce cans of vegetable broth
1, 14.5-ounce can of stewed tomatoes (no-salt)
2 cups of water
8 ounces dried lentils
2 teaspoons chili powder
1/2 teaspoon dried oregano
3 ounces of uncooked spaghetti, uncooked, broken into small pieces
1/4 cup fresh parsley, minced
Fresh Parmesan cheese for garnish
Directions
Use a large saucepan over medium heat and add olive oil. Add onions, carrot, celery and jalapeno. Cook for about 10 minutes or until the veggies are slightly tender.
Add the broth, tomatoes, water, lentils, chili powder and oregano. Bring to a boil. After boiling, reduce heat to simmer, covered, for about 25 minutes or until the lentils are tender.
Combine your pasta with the lentil mixture and cook for about 10 minutes, until the pasta is tender.
Serve in individual bowls garnished with fresh parsley and grated Parmesan cheese. Great with a fresh salad and crunchy bread.