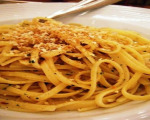 Prep: 10 min
Cook Time: 20 min
Total: 30 min
Serving: Serves 4 people
Use chili-flavored olive oil to bring out the heat in the Spicy Lemon Linguine recipe.
Ingredients
1 pound of linguini
1/2 cup of chili-flavored olive oil
1/2 teaspoon of red pepper flakes
2 or 3 spring of chopped Italian parsley
1/2 lemon, grated for the zest
3 tablespoons of toasted pine nuts
1/4 cup of Parmesan cheese
1 cup water, reserved from cooking the linguini
salt and pepper to taste
Directions
Cook linguini in boiling, salted water until al dente. Reserve one cup of the water from cooking the linguini.
While the linguini is cooking, add chili oil and parsley to a large, pasta serving bowl.
Zest the lemon over the bowl. Squeeze the lemon juice into the mixture.
Whisk the mixture together and then add the hot, cooked linguini to it.
Add the Parmesan cheese and pine nuts and toss all together.
Season with salt, pepper and chili flakes.
Used the reserved linguini water to add to the mixture if the pasta seems dry.