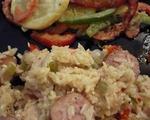 Prep: 15 min
Cook Time: 20 min
Total: 35 min
Serving: 6
Looking for an easy to make dinner that is a little out of the ordinary? Try this easy jambalaya recipe tonight.
Ingredients
2 boneless skinless chicken breasts, cut into bite-size pieces
8 ounces kielbasa, sliced
2 teaspoons olive oil
1 onion, chopped
1 green bell pepper, chopped
1 green bell pepper, diced
1/2 cup celery, diced
2 tablespoons garlic, minced
1/4 teaspoon cayenne pepper
2 cups uncooked white rice
4 cups chicken stock
3 bay leaves
2 teaspoons Worcestershire sauce
1 teaspoon hot pepper sauce
salt and ground black pepper to taste
Directions
Heat oil in a large pot over medium high heat. Saute chicken and kielbasa until lightly browned for about 5 minutes. Stir in onion, bell pepper, celery and garlic. Season with cayenne pepper, and if desired, salt and pepper. Cook for an additional 5 minutes, or until onion is tender and brown.
Add rice, then stir in chicken stock and bay leaves. Bring to a boil, then reduce heat, cover, and simmer 20 minutes, or until rice is tender. Stir in the Worcestershire sauce and hot pepper sauce.