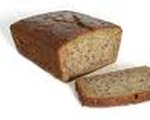 Prep: 15 min
Cook Time: 4 hr
Total: 4 hr 15 min
Serving: 8
Carrot, yam and raisins are the stars in Spicy Harvest Fruits Bread. This bread is poured into a 2 pound coffee can and cooked in a Crock Pot.
Ingredients
1 1/2 cup whole wheat flour
1 teaspoon baking powder
1/2 teaspoon each soda, nutmeg
1/4 teaspoon salt
1/2 to 2 teaspoons cinnamon
4 egg whites
1 cup sugar
1/3 cup honey
1/2 cup corn oil
1 carrot, shredded
1 yam, shredded
1 cup raisins, chopped
Directions
Sift first 6 ingredients together. Beat next 4 ingredients together in bowl. Add 1 to 2 tablespoons hot water, mixing well. Stir in shredded vegetables. Add dry ingredients and raisins, mixing well.
Pour into greased and floured 2 pound coffee pan. Place inside Crock-Pot. Cover can with damp paper towel. Cook partially covered, on high for 3 1/2 to 4 hours.