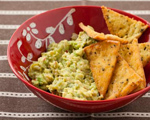 Prep: 10 min
Cook Time: 10 min
Total: 20 min
Serving: Makes about 2-1/2 cups
Tomatillos are small green or green-purple fruits that are a staple in Mexican cooking. Their fresh and slightly tart flavor make them a delicious addition to various dishes and sauces.
Ingredients
3/4 pound fresh tomatillos, husked removed and rinsed well
1/2 cup finely chopped white onion
3 fresh serrano chiles, finely chopped
3/4 teaspoon salt
3 medium ripe avocados (1-1/4 pounds total), peeled, pitted and quartered
2 tablespoons fresh lime juice
Directions
Prepare the oven broiler.
Place the tomatillos on a baking sheet lined with aluminum foil and roast in the oven for 10 minutes, turning once halfway through the cooking time.
In the meantime, put the onion, chiles, and salt in a mortar and pestle and mash to combine.
Place the tomatillos into a bowl, add the onion mixture, avocados and lime juice and mash well until blended. Add salt and pepper to taste and then serve with some corn tortilla chips.