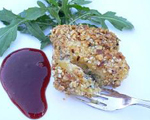 Prep: 1 hr 30 min
Cook Time: –
Total: 1 hr 30 min
Serving: 16 slices
These slices of goat cheese, dredged in spices and sesame seeds, are great alone as an appetizer, or placed on top of a salad.
Ingredients
2 tablespoons sesame seeds
2 teaspoons ground cumin
1-1/2 teaspoons paprika
1 teaspoon finely chopped fresh thyme
1/4 teaspoon coarse sea salt
1/8 teaspoon ground black pepper
1, 11-ounce log chilled soft fresh goat cheese, cut in slices
Directions
Line a cookie sheet with parchment paper.
In a shallow bowl, mix together the sesame seeds, cumin, paprika, thyme, salt and pepper.
Dredge one side of each goat cheese slice in the spice mixture to coat and then put on the baking sheet.
Place the baking sheet in the refrigerator and chill for 1-1/2 hours.
Transfer the slices of cheese to a serving dish, and serve with whole wheat crackers and a glass of Sauvignon Blanc.