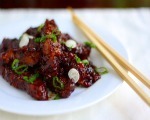 Prep: 45 min
Cook Time: 20 min
Total: 1 hr 5 min
Serving: Serves 4-6 people
Spicy Ginger Beef is a filling and festive dish to serve to friends. Add white rice and a fresh green salad for a delicious meal. The beef gets marinaded to pick up all the delicious flavors.
Ingredients
2 tablespoons rice vinegar
5 tablespoons low-sodium soy sauce
1 tablespoon honey
1 tablespoon fresh ginger, peeled and grated
1-1/2 teaspoons red pepper flakes
1 teaspoon ground cumin
1-1/2 pounds boneless beef sirloin
1 tablespoon cornstarch
1-2 tablespoons water
2 tablespoons vegetable oil
3 green onions, chopped (entire onion)
2 cloves garlic, minced
1 teaspoon crushed red pepper
2 tablespoons fresh ginger, peeled and grated
1/4 cup fresh cilantro, chopped
Directions
First you will marinade the beef. Cut the beef into thin slices, then cut the slices in half. Whisk together the vinegar, soy sauce, honey, 1 tablespoon ginger, 1-1/2 teaspoons red pepper flakes, cumin for the marinade. Add the marinade mixture to the beef and refrigerate, covered for at least 30 minutes, up to two hours.
In a small bowl, mix the cornstarch and the water together as a thickening agent. Set aside. In a large wok or fry pan, heat the vegetable oil over high heat. Add the beef in small batches. Saute the beef until it's browned on the outside (about 1 minute). Transfer and set aside. Do this until all the beef is browned.
To the wok or fry pan (adding a bit more oil if you need to), add 1 teaspoon of red pepper flakes and the garlic. Stir fry for about 30 seconds. Add the 2 tablespoons ginger and stir fry for another 30 seconds. Add the beef, and then add the cornstarch-water mixture. Mix all together. Add the green onions and stir fry for another minute, making sure everything is coated and cooked through. Turn off the heat and add the chopped cilantro. Mix well. Serve immediately.