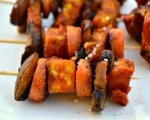 Prep: 2 hr
Cook Time: 60 min
Total: 3 hr
Serving: 10-12 People
One of the best things about tofu is how easy it is to transform its bland flavor into something memorable. These spicy, curry-flavored skewers are the perfect hors d'oeuvres for parties or gatherings for people living a meat-free lifestyle. Paired with roasted mushrooms, carrots and tomatoes, these skewers are incredibly flavorful and very healthy!
Ingredients
1 block extra firm tofu
3 tablespoons curry powder
2 tablespoons extra virgin olive oil
1 large tomato
1 carrot, chopped
2 cups baby bella mushrooms
1 teaspoon sea salt
1 tablespoon crushed red pepper
1/4 cup chopped onion
2 gloves garlic
2 tablespoons tomato puree
2 tablespoons soy sauce
1 teaspoon sugar
2-3 tablespoons coconut milk
Directions
Preheat oven to 375 degrees F. Grease a cookie sheet with cooking spray.
To make spicy curry sauce: Place all ingredients in a food processor or blender and process well to create a fragrant Thai red curry paste. If too thick, add a little more coconut milk to help blend ingredients.
Place tofu into sauce and let marinate in refrigerator for at least an hour. The longer you marinade, the stronger the flavor.
While tofu is marinating, chop mushrooms, carrots and tomatoes. Place on the cookie sheet. Pour olive oil over the vegetables with sea salt and pepper.
Roast for about 12-20 minutes or until soft.
When tofu is done marinating, carefully chop into bite size pieces. Place pieces on a baking sheet and bake for 35-45 minutes until firm.
On small skewers, place tofu, carrots, tomatoes and mushrooms, interchanging between each one. Serve with extra curry sauce and enjoy!