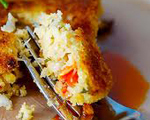 Prep: 25 min
Cook Time: 10 min
Total: 35 min
Serving: 12 Servings
These crab cakes are far from bland; made with a mix of spices and served with a roasted red pepper dip, your guests will be coming back for seconds and thirds!
Ingredients
2 large eggs
1/2 pound fresh lump crabmeat
1 cup ricotta cheese
1 cup (4 oz.) shredded Monterey Jack cheese with jalapenos
3 tablespoons snipped chives
1/2 teaspoon ground cayenne pepper
salt and freshly ground pepper
1 teaspoon garlic powder
3/4 cup fine seasoned dry bread crumbs
1/4 cup olive oil
1 (7 oz.) jar roasted red peppers, drained
1/3 cup mayonnaise
1/4 cup Greek-style yogurt
Directions
In a medium-sized bowl, whisk eggs with a fork until blended. Mix in the crab, cheeses, chives, cayenne pepper, salt and pepper and garlic powder. Mix until well blended.
Place breadcrumbs on a flat plate and set aside.
Form each cake into 1/2 inch thick patties and coat with breadcrumbs.
Heat a large sauté pan over medium-high, and heat oil. Fry each cake for a minute and a half on each side. Cakes will be golden brown. Remove cakes and place on paper towel to drain.
In a food processor, process mayonnaise with red peppers. Serve as a dip for the crab cakes.