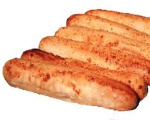 Prep: 15 min
Cook Time: 18 min
Total: 33 min
Serving: 6 servings
Simple, cayenne pepper twisted cornbread.
Ingredients
3 tablespoons butter
1/3 cup cornmeal
1/4 teaspoon cayenne pepper
1 (11 once) package refrigerated soft breadsticks
Directions
Preheat the oven to 350 degrees Fahrenheit. Melt the butter in a pie pan in the oven. Remove.
Combine the cornmeal and pepper on a sheet of wax paper. Roll the breadsticks in the the butter and then in on the wax paper.
Twist according to the directions and arrange on a baking sheet. Bake for 15-18 minutes.