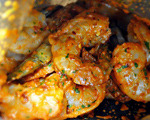 Prep: 5 min
Cook Time: –
Total: 5 min
Serving: Marinade for 8 ounces medium to large shrimp
This marinade is made from a blend of chipotle peppers, garlic, paprika and a mix or red, black and cayenne pepper. The result is a spicy and flavorful mixture that will add considerable flavor, depth and color to your shrimp.
Ingredients
3 Cloves Garlic, minced
2 Chipotle Peppers in Adobo Sauce
2 teaspoons Reserved Adobo Sauce
1 Lemon, juiced
2 tablespoon Olive Oil
1 tablespoon Paprika
1 tablespoon Fresh Cilantro, or more to taste
1 teaspoon Sea Salt
1/2 teaspoon Cracked Black Pepper
1/4 teaspoon Crushed Red Pepper Flakes
1/4 teaspoon Cayenne Pepper
Directions
Place the garlic, chipotle peppers, lemon juice, olive oil, paprika, cilantro, sea salt, black pepper, red pepper flakes, and cayenne pepper into a food processor, and blend until the mixture is smooth.
Transfer the marinade to a large Ziploc bag, add the shrimp and seal the bag. Flip the bag a few times to coat the shrimp and then place in the refrigerator for 30 minutes to marinate.