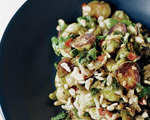 Prep: 10 min
Cook Time: 8 min
Total: 18 min
Serving: 8 servings
Sauté the boiled brussels sprouts until they are almost charred to give them a somewhat sweet and smoky flavor, and then toss with a sweet and savory Asian-inspired sauce to get one delicious side dish.
Ingredients
1/2 cup puffed rice cereal
1/4 teaspoon togarashi or cayenne pepper
Sea salt
1/4 cup Asian fish sauce
2 tablespoons water
2 tablespoons sugar
1 tablespoon rice vinegar
1 tablespoon fresh lime juice
1 small garlic clove, minced
1 small red chile, minced
1/4 cup chopped cilantro
2 tablespoons chopped mint
4 cups boiled brussels sprouts, about 2 pounds halved lengthwise
Directions
Place the oil into a large sauté pan over medium heat. Once it begins to shimmer, add the puff cereal and togarashi and cook for 30 seconds. Sprinkle the mixture with some sea salt and then set aside on a plate.
Place the fish sauce, water, sugar, rice vinegar, lime juice, garlic and chile into a bowl and whisk vigorously until the sugar has completely dissolved. Stir in the cilantro and the fresh mint and set the mixture aside.
Place the last tablespoon of oil into a large sauté pan over high heat. Once hot, add the brussels sprouts to the pan and cook until slightly charred; about 6 minutes.
Place the sprouts in a bowl and toss with the fish sauce mixture. Serve immediately garnished with the cereal mixture.