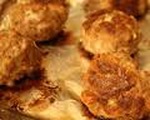 Prep: 10 min
Cook Time: 25 min
Total: 35 min
Serving: 6
Blue cheese adds a tantalizing tang to a spicy meatball recipe. Serve as appetizers or on pasta for a kicked up entree.
Ingredients
4 cloves garlic
1/2 onion, cut into chunks
2 jalapenos, halved and seeded
1 pound extra lean ground beef
1/4 cup crumbled blue cheese
1/2 cup unseasoned breadcrumbs
1 egg
3 tablespoons olive oil
1-1/2 tablespoons soy sauce
1 tablespoon dried chives
1 tablespoon Italian seasoning
1/2 teaspoon chile powder
Salt to taste
1 teaspoon ground black pepper
Directions
Preheat oven to 400 degrees F. and line a rimmed baking sheet with aluminum foil.
Pulse garlic, onion and jalapenos in a food processor until minced.
Scrape the onion mixture into a large bowl along with the beef, blue cheese, breadcrumbs, egg, olive oil, soy sauce, chives, Italian seasoning, chili powder, salt and pepper, and mix until well combined.
Roll the beef mixture into 2-inch balls and place them on the prepared baking sheet.
Bake for 25 minutes or until meatballs are lightly browned and no longer pink in the center.