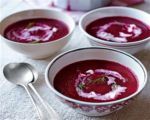 Prep: 15 min
Cook Time: 35 min
Total: 50 min
Serving: Serves 6 people
This traditional, creamy soup tastes even better served the day after it's prepared. Spicy Beet Soup is a nice treat for guests and looks great for a Valentine's Day meal?
Ingredients
1 onion, chopped
1 pound raw beets, peeled & chopped
1 large apple, cored & chopped
2 celery stalks, chopped
1/2 red bell pepper, seeded & chopped
1/2 cup mushrooms, chopped
2 tablespoons butter
2 tablespoons vegetable oil
8 cup of water or vegetable stock
1 teaspoon cumin seeds
Pinch of dried thyme
1 large bay leaf
Fresh lemon juice
Salt & pepper to taste
2/3 cup sour cream
Few sprigs of dill for garnish
Directions
Add the butter, oil and 3 tablespoons of the stock or water to a large saute pan over medium-high heat. Add all the chopped vegetables and apple. Cover and cook for about 15 minutes, stirring occasionally.
Stir in the cumin seeds and cook for about a minute, then add the rest of the stock or water, thyme, bay leaf, lemon juice and salt & pepper.
Bring the mixture to a boil, then cover and allow to simmer for about 30 minutes. Strain the vegetables from the mixture and reserve the liquid. Using a food processor or blender, puree the vegetables until smooth and creamy.
Return the vegetables to the pan, stir in the remaining stock and reheat. Season to taste. Serve with sour cream topping individual bowls of the soup. Garnish with the dill sprigs.