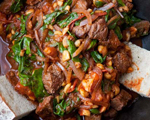 Prep: 10 min
Cook Time: 10 min
Total: 20 min
Serving: 6 Servings
This will become a favorite dish for the family due to its delicious flavor and simple preparation.
Ingredients
1/4 cup peanut oil
1 cup thinly sliced red onions
1-1/2 pounds hangar steak or beef tenderloin, cut into 1/2-inch cubes
1 teaspoon salt, or to taste
1 tablespoons mild chili powder
1/2 teaspoon ground cardamom
1/2 teaspoon ground ginger
1/4 teaspoon freshly ground black pepper
3 garlic cloves, cut into quarters
3 tomatoes, chopped, or 1 1/2 cups roughly chopped canned tomatoes
2 jalapeño chilies, seeds and ribs removed, thinly sliced
1/2 cup dry red wine
2 red onions, sliced
1/2 cup peanuts, coarsely chopped
1-1/2 pounds baby spinach
Directions
Place all of the dry spices inside of a large bowl and whisk to combine. Add the beef and toss to coat.
Place the oil into a large skillet over high heat and add the onions and garlic. Sauté the mixture for 2 minutes and then add the beef and brown for 3 minutes more.
Stir in the tomatoes, jalapeños, peanuts, wine and a few pinches of salt to taste. Cook the mixture for 1 minute and then add the spinach and another pinch of salt.
Once the spinach has wilted, about 2 minutes, remove mixture from pan and serve hot.