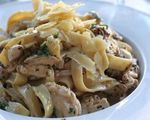 Prep: 20 min
Cook Time: 1 hr 15 min
Total: 1 hr 35 min
Serving: 6
The dinner chatter will be replaced with oohs and aahs when you bring this alluring dish to the table.
Ingredients
1 tablespoon olive oil (enough to coat the bottom of a very large skillet)
2 (8 ounce) onions, sliced (about 2 ½ cups)
5 garlic cloves, minced
2 serrano chili peppers, seeded, minced
¾ cup apricot brandy
2 cups vine-ripe tomatoes, coarsely chopped
½ teaspoon salt
6 skinless chicken breasts with ribs attached, rinsed, patted dry
1 (13.5-ounce) can lite coconut milk, shaken
3 cups cooked whole wheat fettuccini
Spice Mixture:
2 tablespoons red curry powder
2 teaspoons ground cinnamon
1 ½ teaspoon ground cumin
1 teaspoon ground coriander
½ teaspoon ground cardamom
½ teaspoon turmeric
1 teaspoon ground black pepper
¼ teaspoon salt
Directions
Combine all ingredients for the spice mixture in a small bowl and set aside.
Heat oil in large nonstick skillet over medium-high heat.
Cook onions, stirring often with a wooden spoon, until soft and translucent, about 5 to 7 minutes.
Add serrano and garlic, stirring until fragrant, about 1 to 2 minutes.
Sprinkle spices evenly over onion mixture and cook, stirring often, for about 3 minutes.
Remove skillet from heat and pour in brandy to deglaze the pan.
Replace skillet on burner and scrape browned bits from the bottom of the pan.
Cook for about 2 to 3 minutes, stirring occasionally, while liquid reduces.
Stir in tomatoes and salt.
Let the mixture come to a boil and add the chicken breasts.
Place bone side down, pressing into the tomatoes and onions, and then turn breasts over.
Use spatula or wooden spoon to scoop some of the vegetable mixture atop the chicken.
Let mixture come back to a boil.
Add coconut milk and bring to a boil again.
Cover skillet and reduce heat to low.
Simmer for 45 minutes or until chicken is tender and cooked through.
The meat should easily pull from the bone.
To serve, place half a cup of al dente pasta on a rimmed plate.
Top with a piece of chicken and ladle on additional sauce and curried vegetables.