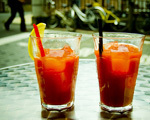 Prep: 5 min
Cook Time: 25 min
Total: 30 min
Serving: 8 servings
This drink may visually resemble a Bloody Mary but it is anything but. Serve either hot or cold depending on your own personal preference.
Ingredients
1 can (46 ounces) tomato juice
1/4 cup packed brown sugar
1 teaspoon ground cinnamon
1/2 teaspoon ground allspice
1/4 teaspoon salt
1/4 teaspoon pepper
1 tablespoon lemon juice
Directions
Place all of the ingredients, except for the lemon juice, into a large saucepan over medium-high heat, and whisk to combine.
Once the mixture begins to boil, reduce the heat and simmer for 20 minutes.
Remove the mixture form the heat and add the lemon juice. Stir to combine and then pour into glasses and serve.