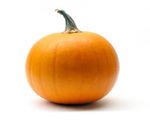 Prep: 15 min
Cook Time: 15 min
Total: 30 min
Serving: 14 People
Consider serving these spiced muffins on Thanksgiving or Christmas. Raisins can be substituted with dried apricots.
Ingredients
2/3 cup butter
3/4 cup dark brown sugar
1/3 cup molasses
1 egg, beaten
1 cup canned pumpkin
1-3/4 cups flour
1/4 teaspoon salt
1 teaspoon baking soda
1 teaspoon cinnamon
1 teaspoon nutmeg
1/4 cup raisins
Directions
Preheat oven to 400 degrees.
Cream butter, sugar and molasses.
Add egg and pumpkin; blend well.
Combine flour, salt, baking soda, cinnamon and nutmeg. Blend into butter mixture, but do not over mix.
Fold in raisins.
Spoon batter into prepared muffin tin.
Bake at 400 degrees for 12-15 minutes or until tops spring back.