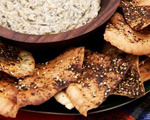 Prep: 5 min
Cook Time: 20 min
Total: 25 min
Serving: 8 servings
Making your own spiced pita chips is extremely simple and the result is highly worthy of the 5 minute prep time and 20 minute cook time involved in making this crispy snack.
Ingredients
1 package 6-inch pocket pitas, split horizontally
1/4 cup olive oil
1 tablespoon za'atar (Middle Eastern Spice blend)
1 teaspoon sweet paprika
Sea salt
Directions
Preheat your oven to 350 degrees.
Thoroughly brush the pitas on both sides with the olive oil and then sprinkle with the za'atar, sweet paprika and a few pinches of sea salt.
Using a pizza cutter or a sharp knife, cut the pitas into 6 wedges and then place on a baking sheet. Cook the pitas in the oven for about 20 minutes. Cool before serving.