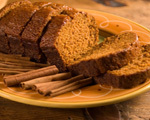 Prep: 15 min
Cook Time: 1 hr 10 min
Total: 1 hr 25 min
Serving: Makes 1 loaf
This spiced bread serves well alongside any breakfast dish. Makes an excellent breakfast treat, especially during those busy morning routines.
Ingredients
1 large orange with peel, finely chopped
1/3 cup butter, softened
1-1/3 cups sugar
2 eggs
1 cup canned pumpkin
1/3 cup water
2 cups flour
1 teaspoon baking soda
1/2 teaspoon baking powder
3/4 teaspoon salt
1 teaspoon cinnamon
1 teaspoon nutmeg
Directions
Cream butter, sugar, eggs, pumpkin, water and ground orange.
In a separate bowl, combine flour, baking soda, baking powder, salt, cinnamon and nutmeg.
Blend flour combination into pumpkin mixture.
Pour batter into a greased loaf pan.
Bake at 350 degrees for 1 hour and 10 minutes.