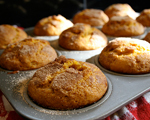 Prep: 30 min
Cook Time: 25 min
Total: 55 min
Serving: Makes 16 muffins
These muffins are made with crystallized ginger; strips of gingerroot cooked in sugar syrup and coated with sugar.
Ingredients
5-1/2 tablespoons minced crystallized ginger
1/2 cup dried currants or raisins
2 tablespoons brandy
2 cups sifted unbleached all purpose flour
1 tablespoon ground ginger
2 teaspoons pumpkin pie spice
1-1/2 teaspoons baking soda
1/4 teaspoon salt
3/4 cup plus 2 tablespoons cooked pumpkin puree or canned solid pack pumpkin
1/2 cup plus 2 tablespoons low-fat buttermilk
1 teaspoon vanilla extract
2 large egg whites
1 large egg
3/4 cup plus 3 tablespoons (packed) golden brown sugar
1/2 cup unsulfured (light) molasses
1/4 cup vegetable oil
Directions
Preheat the oven to 375 degrees and place paper-liners in a muffin tin with 1/3-cup muffin cups.
Mix together 3 tablespoons of the crystallized ginger with 1 tablespoon of brown sugar and set aside.
In a small bowl, mix together the 2-1/2 tablespoons crystallized ginger, currants and brandy and set aside.
In a large bowl, sift together the flour, ground ginger, pumpkin pie spice, baking soda and salt.
In another large bowl, mix the pumpkin puree, buttermilk and vanilla with a whisk and set aside.
Beat the egg whites with an electric mixer in another bowl until foamy. Beat in the 3/4 cup and 2 tablespoons of sugar and beat for 2 minutes until combined.
Beat in the molasses and the oil and then mix in the dry ingredients to the bowl, alternating with the pumpkin mixture in 3 additions each.
Spoon the batter into the prepared muffin tin and then sprinkle with the crystallized ginger mixture. Bake for 25 minutes or until a toothpick inserted in a muffin center tests clean.