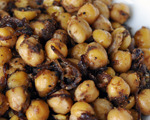 Prep: 5 min
Cook Time: 10 min
Total: 15 min
Serving: 2 Servings
Dried Pomegranate Seeds are also known as Anardana. They add an enjoyable touch of sweet-tartness when added to a dish.
Ingredients
2 tablespoons olive oil
1 small red onion, thinly sliced (about 1/2 cup)
2 cloves garlic, minced
1 teaspoon freshly grated ginger
1 teaspoon ground dried pomegranate seeds
1 teaspoon ground coriander
1 teaspoon ground cumin
1/4 teaspoon freshly ground black pepper
1/8 teaspoon ground cloves
Sea salt
1-1/2 cups canned chickpeas, drained and rinsed
Directions
Place the olive oil into a large sauté pan over medium heat. Once it begins to shimmer, add the onion and sauté, stirring frequently, for about 4 minutes.
Stir in the garlic, ginger, dried pomegranate seeds, coriander, cumin, pepper, cloves and a pinch of salt, and then cook the mixture over low heat for 5 minutes.
Add the chickpeas to the pan, stir to combine and then add a few pinches of salt to taste. Serve warm.