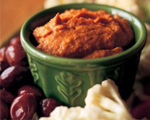 Prep: 20 min
Cook Time: 10 min
Total: 30 min
Serving: Serves 4
A delicious dip with just the right sweet and spicy blend of flavors. Serve as a spread for whole-wheat crackers, or as a dip for tortilla chips.
Ingredients
1 onion
3 carrots, plus extra to garnish
grated rind and juice of 2 oranges
1 tablespoon hot curry paste
2/3 cup Greek-style yogurt
handful of fresh basil leaves
2 tablespoons fresh lemon juice, to taste
red Tabasco sauce, to taste
salt and freshly ground black pepper
Directions
Finely chop the onion, and peel and great the carrots.
In a small sauce pan, add the onion, carrots, orange rind, orange juice and curry paste. Bring to a boil and then simmer gently, covered, for 10 minutes, until carrots are tender.
Place the mixture in a food processor and process until reaching a smooth consistency. Remove, place into serving bowl and let cool.
Mix in the yogurt and then tear the basil leaves into small pieces. Stir into the carrot mixture.
Pour in the lemon juice and the Tabasco, and season well with salt and freshly ground pepper. Garnish with some grated carrot and serve at room temperature.