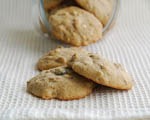 Prep: 15 min
Cook Time: 15 min
Total: 30 min
Serving: Makes 4 dozen cookies
These chewy cookies will soon become a popular favorite among your friends and family.
Ingredients
1 egg
1 cup brown sugar
1/4 cup applesauce
1-1/2 cups mashed bananas
1/2 teaspoon vanilla
1-1/2 cups flour
1-1/2 cups oats
1 teaspoon baking soda
1 teaspoon cinnamon
1/4 teaspoon nutmeg
1/2 cup chocolate chips
Directions
Cream egg, brown sugar and applesauce; add bananas, mixing well.
Stir in vanilla, flour, oats, baking soda, cinnamon and nutmeg.
Fold in chocolate chips; let sit for 5 minutes.
Drop by teaspoon onto prepared baking sheets.
Bake at 350 degrees for 12-15 minutes or until golden brown.