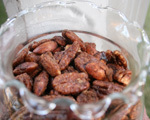 Prep: 10 min
Cook Time: 1 hr
Total: 1 hr 10 min
Serving: 4 Servings
I always like to serve these mixed nuts during cocktail parties. They go very well with straight-up cocktails like whiskey and rye.
Ingredients
1/2 cup whole almonds
1/2 cup whole pecans
1 cup sugar
1 egg white
1/2 teaspoon salt
1 tablespoon water
2 teaspoons cinnamon
Directions
Preheat the oven to 250 degrees and lightly grease a baking sheet with cooking spray.
Place the egg white in a small bowl and lightly beat. Add the water and continue to beat until frothy but not stiff.
Stir in the nuts and mix until thoroughly coated.
In a separate bowl, mix together the sugar, salt and cinnamon. Sprinkle the mixture over the nuts and toss to coat.
Spread the nut mixture onto the baking sheet and cook for 1 hour, stirring occasionally to ensure even cooking.