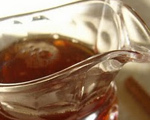 Prep: 10 min
Cook Time: 10 min
Total: 20 min
Serving: About 1-1/2 cups
Add a few teaspoon of this spiced syrup to your favorite cocktail or punch for added flavor and depth.
Ingredients
3 sticks of cinnamon
2 whole cloves
1/4 teaspoon cardamom seeds
2 tablespoons allspice berries
3 cups water
1-1/2 cups sugar
Directions
Place the cinnamon, cloves, cardamom and allspice into a mortar and pestle and break into pieces.
Put the spice mixture into a saucepan, add the water and bring to a boil. Boil the mixture until reduced by half and then strain. Discard spices.
Return the liquid back to pan and add the sugar. Simmer the mixture over low heat and stir until all of the sugar has dissolved. Allow to cool prior to using.