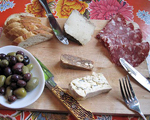 Prep: 30 min
Cook Time: –
Total: 30 min
Serving: Serves 6
If you are bored with serving brie right out of the box at your dinner parties, try this delicious and impressive mix of exclusive cheeses, meats and accompaniments. You may need to go to a specialty food store to find them, but it's worth the trip.
Ingredients
Meats:
12 slices Sopressata
12 slices prosciutto
12 slices Finnochiona
Cheeses:
8 ounces Pierre Robert
8 ounces Abbaye de Belloc
8 ounces Clochette
8 ounces Parmigiano Reggiano
Accompaniments:
1 small jar Quince paste (membrillo)
1 small jar Apricot Almond Preserves
1 jar Kalamata olives in extra-virgin olive oil
1 thin Italian breadsticks
Directions
Place all of the ingredients on a large platter, grouping the meats together and the cheeses together.
Empty the accompaniments into small bowls and place between the meat and cheese ingredients.