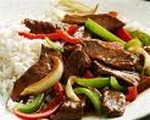 Prep: 15 min
Cook Time: 20 min
Total: 35 min
Serving: 4
A shot of Sherry makes Special Pepper Steak tender and delicious.
Ingredients
1 green pepper, chopped
margarine
1 steak, cut up
mushrooms
2 medium cloves of garlic
oregano to taste
1/2 cup ketchup
1/8 cup Sherry
3 tomatoes, chopped
salt and pepper to taste
Directions
Brown green pepper in margarine in skillet. Remove and set aside. Brown steak, mushrooms and garlic in pan drippings. Add oregano, ketchup, Sherry and 1 tomato.
Steam covered, until meat is tender. Add remaining 2 tomatoes, green pepper, salt and pepper. Cook just until heated.